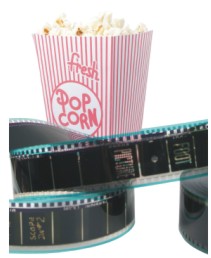 If you love movies as much as I do, maybe you can guess the movies these lines come from. Whoever gets the most answers right, will be crowned Movie Champion Of the World!!!!!!!! (Okay, that's a little dramatical, but that's how my older brother and I competed in everything when we were growing up. We had Wheel of Fortune, Connect Four, Uno championships, etc. for all of the marbles. It was actually pretty serious to win--sooo good luck and no googling!!).





I've been in love with you since I was eleven, and the s**t won't go away.


The details of your incompetence do not interest me.


Why is he alive? It vexes me... I'm terribly vexed.


Don't you think I realize what's going on here, miss? Who do you think I am, huh? Don't you think I know that if I was some hotshot from out of town that pulled inside here and you guys made a reservation mistake, I'd be the first one to get a room and I'd be upstairs relaxing right now. But I'm not some hotshot from out of town, I'm a small reporter from "Rolling Stone" magazine that's in town to do an exclusive interview with Michael Jackson that's gonna be picked up by every major magazine in the country. I was gonna call the article "Michael Jackson Is Sitting On Top of the World," but now I think I might as well just call it "Michael Jackson Can Sit On Top of the World Just As Long As He Doesn't Sit in the Beverly Palm Hotel 'Cause There's No N***ers Allowed in There!"


Actually we've got a nice little Saturday planned. We're going to Home Depot to pick out some wallpaper, then maybe well hit Bed Bath and Beyond... I dont know! I dont know if we'll have enough time!
In thirty seconds you'll be dead, and I'll blow this place up and be home in time for Corn Flakes.


Haven't you seen Boyz N The Hood? Now one of us is going to get shot.


Hello. My name is Inigo Montoya. You killed my father. Prepare to die.


And what else? Why don't you just jump off the roof, right here and now? That's what you really want, isn't it? Yes, you do. You smoke crack, don't you, boy? Don't you smoke crack? Yeah, I thought so. And you know what that does to you? You don't? It kills your brain cells, son. It kills your brain cells! Now when you're destroying your brain cells, you're doing the same thing as killing yourself. You're just doing it slower! Now, I say if your wanna kill yourself, don't f**k around with it, do it expeditiously! Go on and jump! JUMP!

Who am I? Well, they call me Brother to the night. And right now I'm the blues in your left thigh... trying to become the funk in your right. Is that all right?


Poor people are crazy, Jack. I'm eccentric.


Wait'll they get a load of ME!


Ever notice how you come across somebody once in a while you shouldn't have f**ked with? That's me.


Mr. Musgrave, please don't interrupt me when I'm asking rhetorical questions.


I was married at your age. You don't even want to learn how to cook dahl!


A Jedi Knight? Jeez, I'm out of it for a little while, everyone gets delusions of grandeur!


As your leader, I encourage you from time to time, and always in a respectful manner, to question my logic. If you're unconvinced that a particular plan of action I've decided is the wisest, tell me so, but allow me to convince you and I promise you right here and now, no subject will ever be taboo. Except, of course, the subject that was just under discussion. The price you pay for bringing up either my Chinese or American heritage as a negative is... I collect your f**king head. Just like this f**ker here. Now, if any of you sons of b***hes got anything else to say, now's the f**king time!


I don't give a d*mn if Marvin Gaye 'gonna be there, you wont!


After stomping on Ilena's cousin like that, I knew I was gonna have to deal with that fool someday. D*mn! I never thought he'd come back like this, blasting. Like I said, it was funny like that in the hood sometimes. I mean you never knew what was gonna happen or when. I've done too much to turn back, and I've done too much to go on. I guess in the end it all catches up with you. My grandpa asked me one time if I care whether I live or die. Yeah, I do. Now it's too late.


I will be watching you and if I find that you are trying to corrupt my first born child, I will bring you down, baby. I will bring you down to Chinatown.


Well, here's my first question. Do you think it's kind of dangerous handing out guns at a bank?


Money talks, and bulls**t runs a marathon. So, see ya and I wouldn't want to be ya.
Pic Source